Diana Dors, the sixties icon of Swindon still has a presence in the town, albeit in bronze.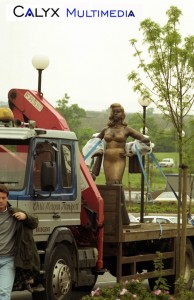 At the Cinema complex at Shaw Ridge there stands a statue to the Swindon Girl, Diana Fluck, from Marlborough Road in old Town.
It arrived standing upright on the bed of a lorry and was hoisted into position on a plinth at the new leisure complex by the Link Centre on 7th June 1991.
Enjoy the gallery of its arrival.