Carney Bonner carried the Olympic flame through Chiseldon near Swindon on 23 May, but on Friday 27 July – before the official launch of the London 2012 Olympic games – he was at Sainsburys Bridgemead store with his torch raising money for his charity, the Carney Charles Foundation.
Except he wasn't for much of the afternoon. Unfortunately he was called away to a job interview but asked fellow torch carrier Catherine Groarke-Oliver to step in and assist until he could get to Sainsbury's.
Catherine is from Royal Wootton Bassett but carried the torch up Kingshill in Swindon on 23 May. She was nominated to carry the torch for how she helps with her brother who has ADHD and Asperger's, and her life saving volunteering and community work around the town.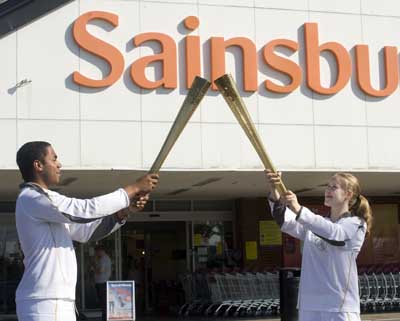 Carney was Member of the Youth Parliament representing Swindon in 2010 and 2011 he campaigned against cyber bullying, reaching over 3,000 pupils who attended more than 150 workshops in schools.
He is continuing the work through the Carney-Charles Foundation.
Copy: Swindon Link Magazine
http://www.swindonlink.com/news/holding-the-olympic-torch-in-fight-against-cyber-bullying