A 2-8-0 tank engine made in Swindon has returned home for the first time for a guest running on the Swindon & Cricklade Railway.
Copy from the Railway's web site: http://www.swindon-cricklade-railway.org/future.php#4247 
No 4247 was built at Swindon in 1916 as a member of Churchward's 4200 class, 105 of which were produced between 1910 and 1923.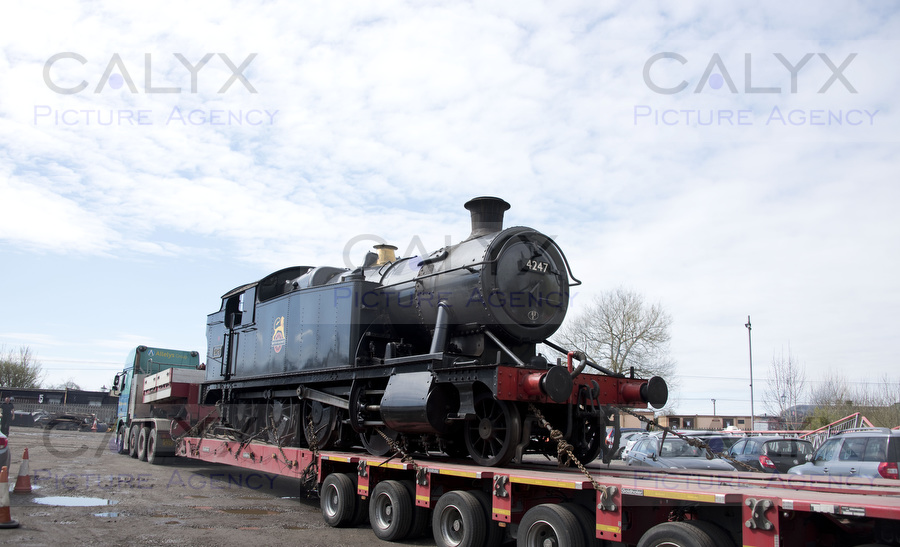 They were designed to move coal between South Wales collieries and ports, where they regularly hauled loads of around1,000 tons. The design took account of the tight curves and undulations of their working environmant and, thanks to reduced flange width on the 2nd and 3rd sets of driving wheels and spherical joins in the coupling rods, they could negotiate 2-chain curves. No 4247 was one of the class that also spent time in Cornwall hauling trains of china clay.
No 4247 is one of five of the class retrieved from Barry, and one of the three operational locomotives.

During its visit it will haul passenger trains on 16th, 17th, 23rd, 24th and 30th April and on 1st and 2nd May.
The locomotive visits courtesy of the Bodmin & Wenford Railway.
Gallery: