Swindon's highline champion Jake Hirsch-Holland and friends rigged a high line between two of the towers that support the building on 26 October to raise money to be able to teach circus skills to children in Nicaragua.
Coping with windy conditions Jake and other high line walkers took turns to step across the 70m gap, some 20m from the ground, though they had a safety line to prevent any disasters.
At one point Jake tried juggling in mid-air and also showed off some high line yoga poses.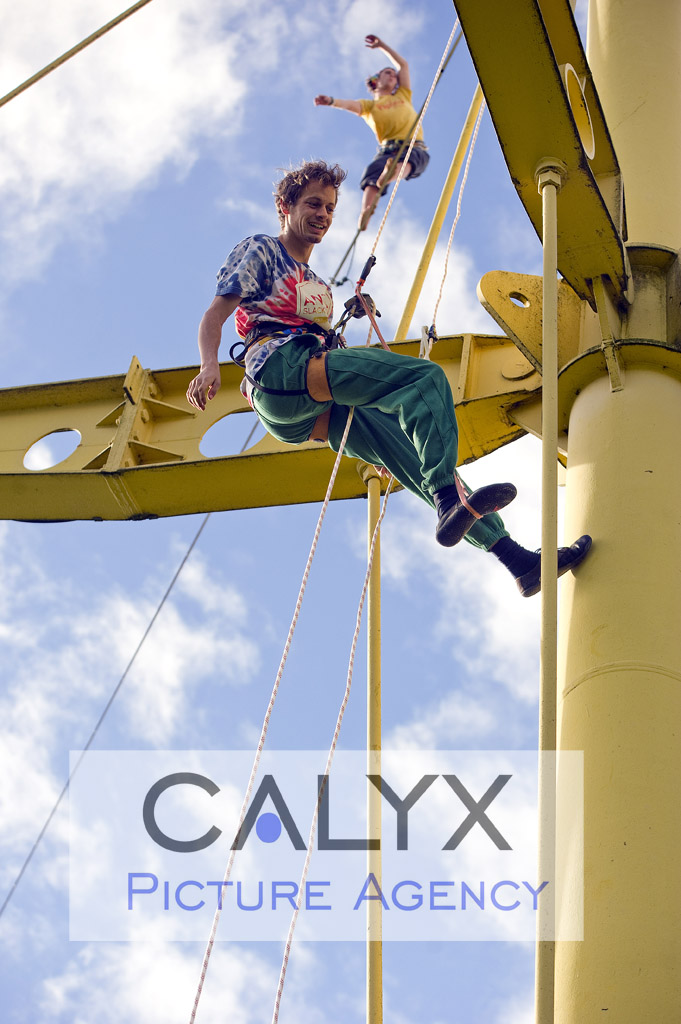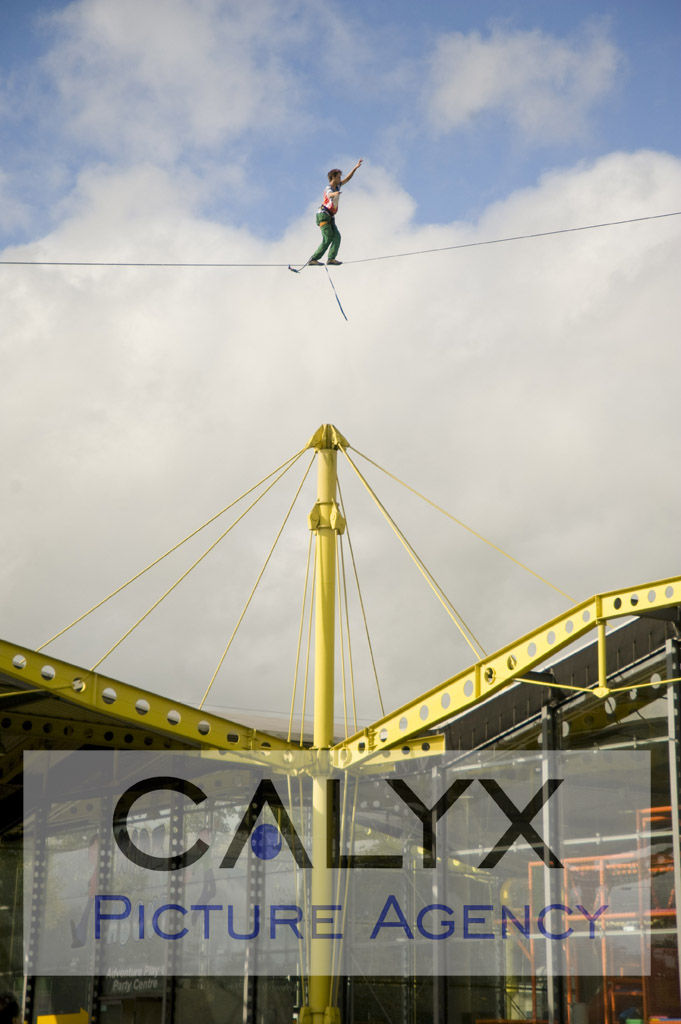 At ground level, friends with circus skills walked a low line and performed stunt tricks whilst children passing by had a go on a short line just above ground level.
After appropriate risk assessments, Jake was given permission to perform at the iconic building designed by Lord Norman Foster's iconic building in the 1980s for Renault which received listed building status from English Heritage in September this year.
Now known as Spectrum, the former car show room and parts distribution centre is now a Kidz About children's play centre and a dance and drama academy run by Singer Jonathan Wilks.
After going to Nicaragua with Performers Without Borders to teach circus skills to poor and vulnerable children in disadvantaged communities earlier this year, Jake is raising money to join another PWB crew returning to Nicaragua in 2014. Whilst there he hopes to again visit Swindon's twin town Ocotal.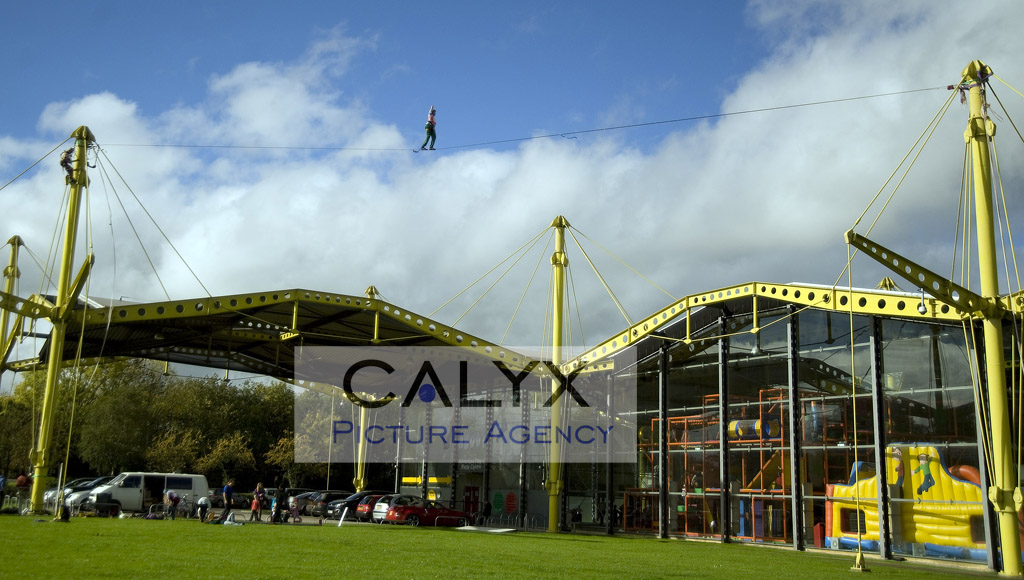 Jake wrote about the Performers Without Borders fundraising project before the event:
This epic urban highline in Swindon, on the award winning Spectrum Building, will be rigged and walked by myself and a team of some of the UK's best highliners.
I am using this stunt to raise money for my part in Performers Without Borders' next project in Nicaragua where a group of seven of us will be teaching performing arts to vulnerable children. See PWB's website for more information about the amazing work they do in countries of high child poverty.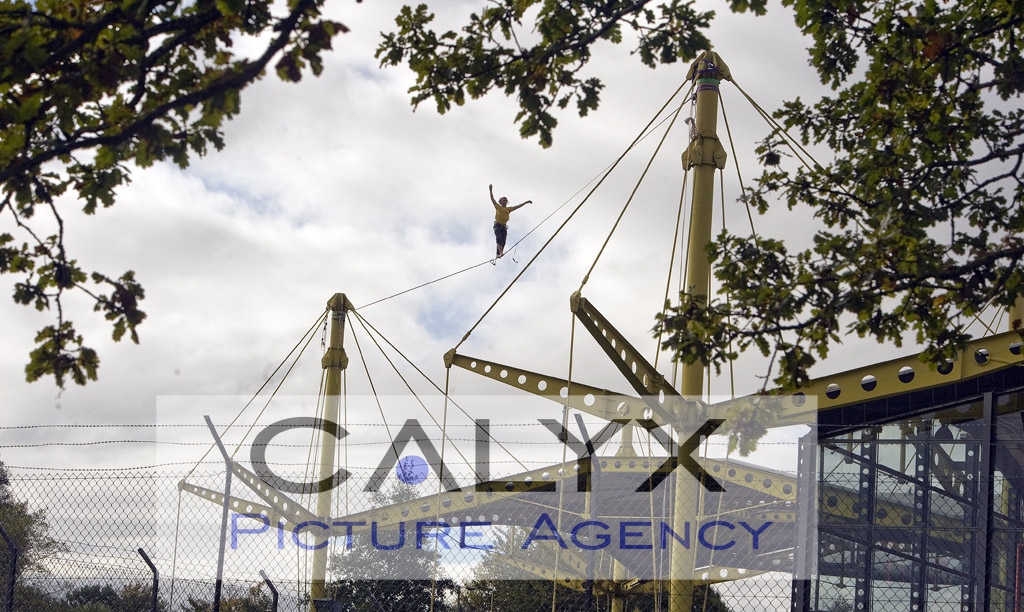 This will be my second project with PWB, after spending 3 months in Nicaragua at the beginning of this year
Nobody is being paid for this stunt. We are not paying the building, they are not paying us; and most importantly, everyone on the crew is offering their time and expertise completely for free to help me raise money so I can join PWB's tour.
Without fundraising I will not be able to afford this trip. The money raised here and through cash donations at events will pay for my travel, accommodation, and food. Any extra money raised will simply help to make PWB's projects more effective!
The work that PWB and its volunteers do is invaluable. Besides the smiles on the children's faces, PWB's work has some amazing outcomes that are an important part of any child's life but are simply not always a given for the children we work with.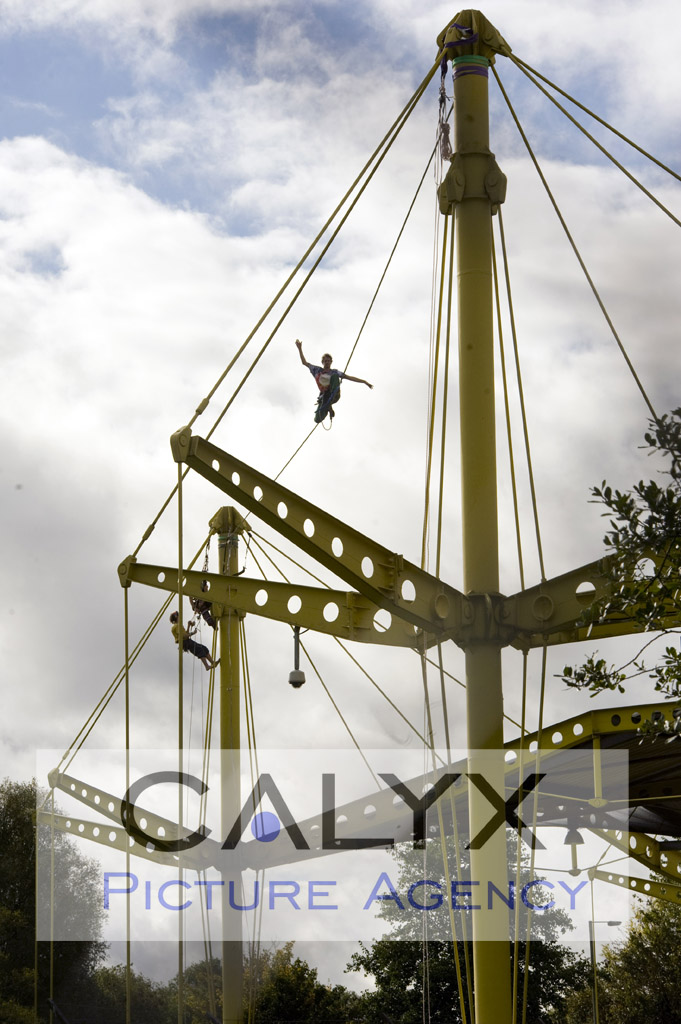 Here's a bit about PWB's vision: "Performers Without Borders (PWB) works towards giving vulnerable children the opportunity to explore their potential. We understand that, through teaching performance skills an individual's learning,creativity and team working skills are developed
"Further, it helps to build confidence, develop empowerment and overcome social barriers. PWB's methodology of following the tradition of travelling show, and the principle of fostering long-term relationships, is ideal in not only engaging children, but also ensuring community trust in the project."
I NEED YOU! Any donation you can make, small or large, will really help me get back to Nicaragua and work with these children again. You can also help by spreading the word!
Copy from Swindon Link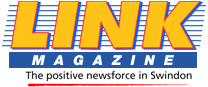 Gallery: