Hundreds lined the area around the Cenotaph for the 11-11-11 service Led by the Bishop of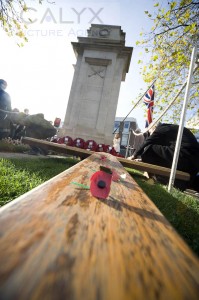 Swindon Dr Lee Rayfield and wreaths were placed by civic and military dignitaries led by Major James Arkell and the Mayor of Swindon Cllr Mick Bray.
After the ceremony a small secondary event took place as the Peace Pledge Union places a wreath of white poppies amongst the mass of red.
Gallery of the event.