Outline plans for a £65m scheme to make Swindon the top leisure destination in the South of England will be shown to the public at the Oasis Leisure Centre on 10 and 11 November.
Centred around the Oasis at North Star, new owners Moirai Capital Investments will not only be refurbishing the 35 year old leisure facility with its iconic dome over the pool and flumes, they will be making a huge investment in leisure attractions including an indoor ski slope to be built opposite the Oasis on the former Clares factory site.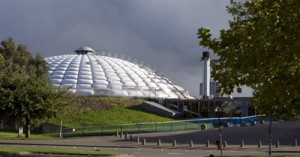 The site will also include a multi-purpose indoor arena concert space originally conceived to accommodate 5,000 people, but is now being planned for 7,500.
The council owned Oasis and the adjacent land was transferred to Moirai on 1 June. The council decided to seek external investment because it did not have the funds to pay the estimated £20million cost to bring the facility up to modern standards.
Peter Holmes of Moirai Capital Investments said the plans on display will illustrate what the short term refurbishment of the Oasis, the indoor snow facility, indoor arena space and other commercial developments might look like. "This is part of the consultation process as we approach a formal planning application in March or April 2013. We are keen to hear comments from Swindon residents and build them into our plans."
The overall leisure scheme is predicted to create 1,700 jobs, including approximately 400 full-time and 600 part-time positions, as well as creating several hundred other jobs through construction and ongoing supported activity associated with the development.
It is anticipated the development will be a major boost to the Swindon economy. Projections estimate the North Star development will attract up to 4 million visitors a year.
Copy Link Magazine.
See Link Magazine EXCLUSIVE: http://www.swindonlink.com/news/exclusive-oasis-rebuild-and-plans-for-indoor-ski-slope-to-be-displayed-10–11-november