Even on an emergency the Wiltshire Air Ambulance draws a crowd.
This medical emergency was in Penhill Swindon and members of the public turned out to look over the Bell 429 helicopter.
The service is funded by the public and in January 2015 started operating a dedicated air ambulance which means they must raise £3.25m a year.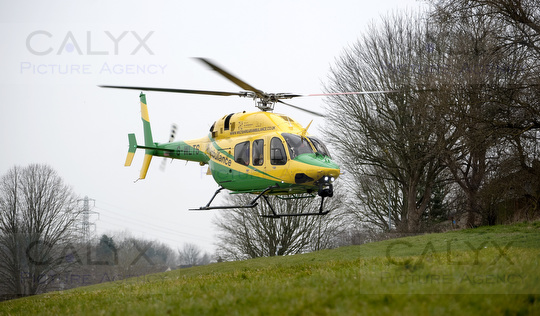 They are planning a new base for the service which until now has operated from the old Police helicopter pad at the Police HQ in Devizes, but they must leave that site and have outline planning permission for a new build at Semmington near Melksham.
The 12.5 acre site is centrally located which would still enable the helicopter to reach all parts of Wiltshire within 11 minutes. The benefit of owning its own land would mean the charity has full control of its future and not subject to the uncertainty that renting can bring.
As Melksham does not have an ambulance station, the charity believes that WAA would provide enhanced medical cover for the area. WAA's Critical Care Paramedics have advanced medical skills and as well as responding in the helicopter, they use a Rapid Response Vehicle (car) to attend medical emergencies including road traffic collisions, heart attacks and strokes.
According to the WAA website (from which some information was taken – with thanks) the Bell 429 has flown 128 missions at the time this piece is compiled.
It is a wonderful asset for the area and public support is much needed.
Donation details on the WAA website.http://www.wiltshireairambulance.co.uk/#top