Gavin Mellor checks out the brand new tyres he had put on his car yesterday. His car was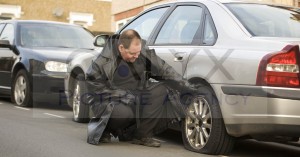 one of 120 cars that had their tyres slashed overnight in the Stafford Street area of Swindon.
"I'm gutted, I put four new tyres on yesterday and now look at them. It's mindless. I am only covered third party so the insurance won't cover it and the tyres cost me about £100 each."
POLICE STATEMENT
Wiltshire Police is appealing for information following large scale criminal damage to vehicles in Swindon.
A substantial number of cars parked on several residential streets between Swindon town centre and Old Town were damaged in the early hours of this morning – with many having their tyres slashed.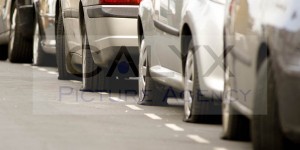 Wiltshire Police has increased patrols in the area with officers from the local Neighbourhood Policing Teams offering advice to any victims and detectives working on the investigation.East Sector Inspector Joe Saunders said: "This is a large scale incident of criminal damage and one we are taking extremely seriously."These offender(s) have been brazen in the sheer number of vehicles they have damaged early this morning.
"I would like to reassure the local community that Wiltshire Police is taking this incident veseriously and I have a large number of my officers out in the area talking to local people and making sure every crime is logged in the right way.
"We also have detectives down at the scene working on building up a picture as to what happened.
"Witnesses are key to this investigation – anyone who saw anything between 2am and 5am this morning, no matter how small, should contact Wiltshire Police on 101.