To give Christmas shopping a little bit of extra spice, on Wednesday 19 and Thursday 20 December Jacob Hirsch-Holland, aka Jake the Juggler from West Swindon, spent two wet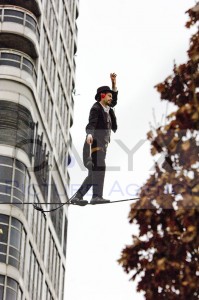 and windy days walking back and forth on a higgline stretched some 30 feet in the air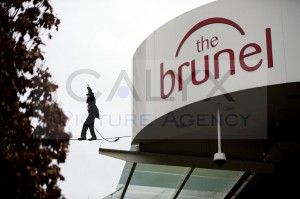 between the roof of The Brunel shopping centre to the roof above the YMCA shop – junction of Canal Walk and Wharf Green.
Public safety was a priority and the current Briish Slackline champion had the permission of The Brunel Centre and relevant health and safety clearance.
Jake himself was teathered to the line to ensure he was safe in case he slipped in the damp weather.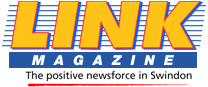 http://www.swindonlink.com/news/highline-entertainment-in-swindon-town-centre

http://www.swindonweb.com/?m=2&s=1804&ss=1999&c=11910&t=Is+It+A+Bird%3F+Is+It+A+Plane%3F+No…
Gallery: