Copy from Swindon Link Magazine
http://www.swindonlink.com/news/take-to-the-treetops-in-swindons-lydiard-park
Twenty five Year 5 children from Tregoze Primary School try out Jungle Parc at Lydiard Park.
What is Jungle Parc?
The Jungle Parc concept includes over 50 tree-trekking activities, comprising two green, two blue, one red and one black course, enabling adults and older children to face the challenge and exhilaration of swinging, zipping and climbing between the trees in a completely safe and controlled environment. Full instruction is provided, and all participants wear a harness and learn how to safely clip and unclip from each activity.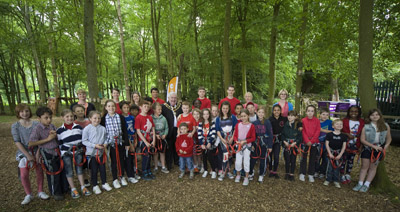 The course, which is situated in woodland just beyond the large playground adjacent to the café, took 12 weeks to build, following a rigorous planning process.
Swindon Borough Council Officer for Lydiard Park Stuart Webb explained the decision to use Jungle Parc over other larger aerial adventure providers: "We chose Jungle Parc because it is a small family run business, with a good ethos around education and conservation, working with us on habitat management. It also teaches young people about accountability and how to look after yourself."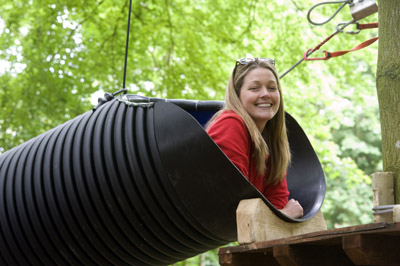 Company owner Maria Reynolds described the inspiration behind Jungle Parc, which runs just two other sites in the UK: "We wanted to do something slightly different from the larger and
more corporate organisations that run this type of course. We don't want the business to get too big because we want to be involved in the management and running of all our sites.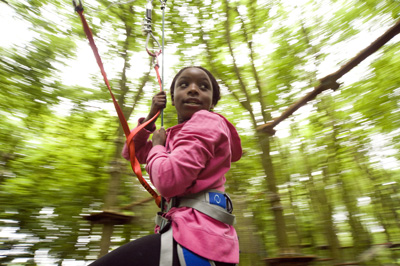 "When I was growing up as a family we'd never book anything in advance, we'd always just turn up and want a go, so we consciously leave some slots for spontaneous bookings – the kind that happen when kids just see something and decide they want to do it right now! We could make more money by booking it out in a corporate way, but that's less fun."
"We only use bolts and screws and don't use any nails in the construction of the equipment. The trees provide our building blocks and we make sure we don't harm them in any way," explained Maria's mother Yvonne Reynolds.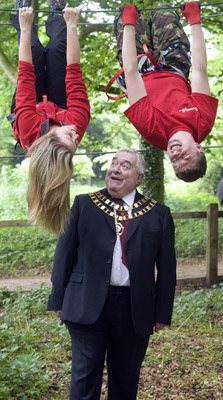 The red ribbon was officially cut by the Mayor of Swindon, Mick Bray, who commented on how the facility would teach children a lot about the countryside and the woodland. He said: "These days young people don't get much chance to experience nature in this way. It will certainly give them a new perspective on what's around them, seeing nature from above rather than below."
The Jungle Parc facility at Lydiard has sourced much of its material for fencing, flooring and signage from local companies and will create 8 new jobs by the autumn, with its first 3 local people starting work immediately to manage the site and provide instruction and safety briefings to its users.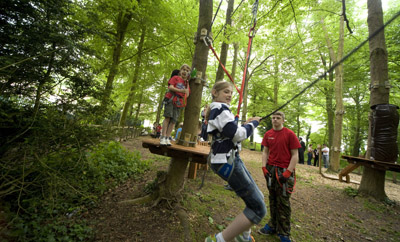 Brand new site leader April Watts from Covingham is thrilled with her new role. She said: "I got the job yesterday, having just finished studying adventure education at uni. This facility is great for Swindon and will be fab in the summer."
Highlighting the rite of passage many children feel when close to nature, Year 5 pupil Natalie Adofo proudly announced as she crossed a challenging rope bridge on one of the Blue Courses: "From the classroom as a little girl to now a woman!"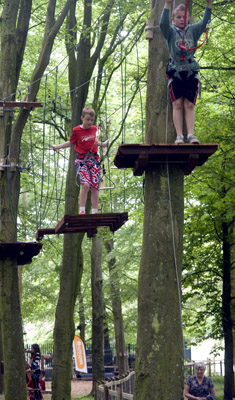 Meanwhile ten year old Jack Grey from Tregoze became the first person from Swindon to complete the Black Course, with platforms, walkways, rope bridges and zip lines over 15 feet up in the treetops. He said: "It was hard to start off with because my legs were shaking from doing the green, red and blue courses, but I'm not afraid of heights. I am very pleased to have completed it."