Queen's Diamond Jubilee medal awarded to Swindon Reserves
Eighteen members from Swindon's Royal Yeomanry Reserve Squadron were yesterday
awarded their Queen's Diamond Jubilee Medal for their services to the armed forces. All but two have been on operational service in Afghanistan, Bosnia, Iraq and Cyprus.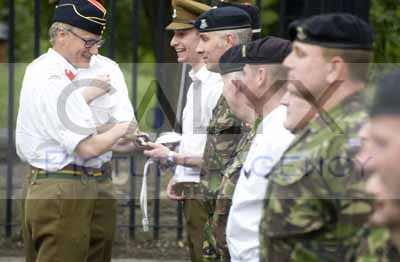 The soldiers, based on Faringdon Park, Swindon were presented the coveted medal by ex-
Squadron Leader and Deputy Commander of 3 Div, Brigadier Simon Brooks-Ward OBE LVO TD. The ceremony was also attended by their Honorary Colonel and director of Arkell's
brewery, Colonel James Arkell TD DL and 50 fellow Reservists from the squadron.
The unit currently has ten soldiers mobilised to provide security at the Olympics and is preparing to send a dozen soldiers to Afghanistan in January.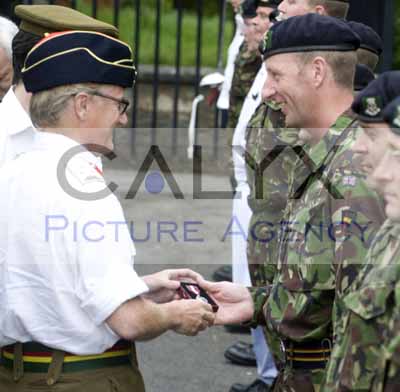 Squadron Leader Major Conn MacEvilly said: "I am proud to see so many of the Squadron
recognised by the Queen in this way.
"It's a very busy and exciting time for the Reserves, with the Royal Yeomanry preparing to mobilise early next year as well as taking on the added responsibilities being given to the
Reserves as a result of the Army 2020 review."
A (Royal Wiltshire Yeomanry) Squadron, Royal Yeomanry, has been formally recognised as
one of the best recruited Army Reserve subunits in the country. Formed in 1793, the Royal Yeomanry are the senior Yeomanry regiment in the British Army having been formed first.
In 2003, for the Iraq War, they became the first entire Reserve regiment to be mobilised since the Second World War.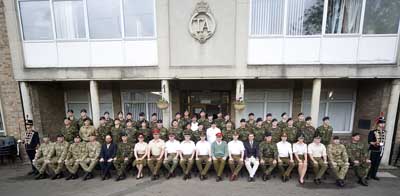 The Soldiers awarded medals include: Major Conn MacEvilly, Major Mike Dalzell, Captain George
Arkell, Captain Tom Ross, WO2 David Blackwell, Staff Sergeant William Carson, Sergeant
Robert Mead, Sergeant Jon Pierce, Sergeant Matthew Williams, Sergeant H Chirgwin, Cpl Tom Selway, Cpl Andrew Hyde, Cpl Michael Fitzgerald, Cpl Colin Horne, Cpl Martin Dobson, Cpl G Humphreys, Cpl James Dunsby, LCpl Paddy Lusty,
The Queen Elizabeth II Diamond Jubilee Medal is a commemorative medal issued in 2012 to mark the 60th anniversary of the accession to the throne of Queen Elizabeth II.
In the United Kingdom and its overseas territories, 450,000 medals were awarded to all
members of HM Armed Forces(regular and reserves), operational members of HM Prison
Service, and emergency services personnel (including Police Community Support Officers) who have been in paid service, retained or in a voluntary capacity, and who had completed five full calendar years of service on 6 February 2012.
DIARY NOTE:
Freedom of the city: The Squadron is exercising its freedom of the Borough of Swindon to
commemorate the 70th anniversary of the Second Battle of El Alamein on Sunday 21 October
2012. There will be a parade through the centre of Swindon involving around 100 soldiers and
their vehicles, as well as the Isambard School detachment of the Army Cadet Force.