BOC and Hyundai conduct UK's first 700 bar hydrogen refuelling
Hydrogen-based transport took another step forward this week when industrial gases and engineering company BOC undertook the UK's first-ever refuelling of a 700 barhydrogen passenger vehicle.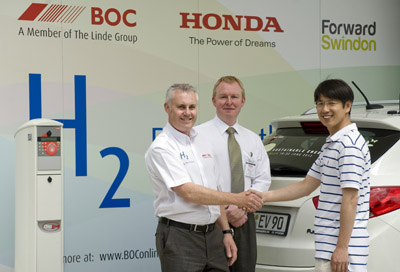 The car, a Hyundai ix35 FCEV, was refuelled in compliance with the industry'sinternational operating standard, the SAE J2601 Protocol, at the UK's only public-access hydrogen refuelling station in Swindon. On separate occasions over a two-day period, five kilograms of high purity hydrogen were dispensed at a pressure of700 bar in less than 3 minutes, the gas having been pre-cooled to -40°C.
The station is the result of a partnership between BOC, a member of The Linde Group, together with car maker Honda and Swindon's economic development company Forward Swindon.
Hyundai Senior Research Engineer Soongil Kweon, who oversaw the refuelling on behalf of the car manufacturer, commented: "The capability of the BOC station to refuel cars at both 350 and 700 bar pressures demonstrates that the UK is rapidly increasing its credibility as a location for the roll-out of hydrogen-powered passenger cars."
All the major vehicle manufacturers have signed up to a global agreement to develop production lines for hydrogen vehicles by 2015. The standard specification for refuelling systems in these new models will be 700 bar pressure, so the Swindon station will be able to service these vehicles as soon as they appear on Britain's roads.
Nick Rolf, BOC Innovation Manager for Hydrogen Systems, noted: "This is the first refuelling of a 700 bar vehicle in Britain. As the only refuelling station in the UK currently capable of refuelling these vehicles, we are very pleased to welcome Hyundai to Swindon. We hope that this visit will encourage other vehicle manufacturers to take the opportunity of bringing both 350 and 700 bar vehicles to the UK as well."
Ian Piper, Chief Executive of Forward Swindon, noted: "The facility here in Swindon, right in the heart of England, means that hydrogen-powered vehicles are able to reach other parts of the country easily. It is part of Swindon's vision to be in the centre of the UK's low carbon economy."
Mike Godfrey, the Chief Engineer at Honda of the UK Manufacturing, said: "The hydrogen economy is developing rapidly as new vehicles and specifications are developed. But we need the refuelling infrastructure if hydrogen transport is to be a reality for everyone in the UK, and this refuelling station shows the way forward."
Copy: Forward Swindon